Growing vegetables in growth bags is becoming more and more popular, what are the benefits? It saves trouble and is labor-efficient and productive
Many friends asked, vegetables are directly planted in the soil, the picture of tomatoes, cucumbers, strawberries planted in the bag, which is what kind of growing method?
In fact, this is a low-cost soilless cultivation method, the vegetables directly planted in the bag. Soilless culture can avoid the problem of continuous cropping, save water and fertilizer, but also save artificial. Some friends will say, vegetables in plastic bags, this method is becoming more and more popular.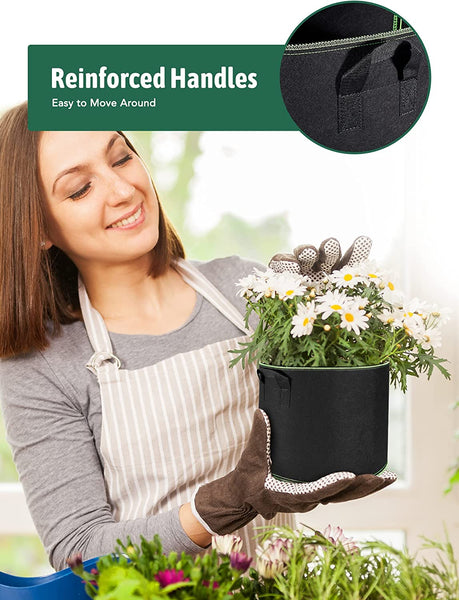 Use a plastic bag as a planter and fill it with organic fertilizer as a substrate. This is a simple, low-cost soilless cultivation model, and now many farmers are using this method, the effect is very good. There are some friends saw this method for the first time planting, asked if such a planting bag is an ordinary bag, what are the advantages of planting?
First, the plastic bag is 35 centimeters long, 20 centimeters high and 30 centimeters wide, and can hold four kilograms of substrate. You can grow tomatoes, cucumbers, melons, peppers, strawberries and other fruits, but also grow leafy vegetables, and some farmers use bags to grow carrots. Basically, the vegetables often planted in the greenhouses can be used in planting bags, without any restrictions.
Second, the planting bag and the past plastic bags are different, it is silver-white outside, inside is black, suitable for the growth of vegetables. The white side keeps the temperature in the bag, which is a constant temperature. And Black can effectively prevent part of the light reflection, injury to the root of vegetables.
Third, the water-holding capacity of planting bags is better, more suitable for substrate cultivation, and there will be no water. Some farmers think that non-woven bags better, high permeability. We can imagine, soilless culture in the matrix itself permeability is better, in turn, water retention is worse. If we use non-woven bags, good water permeability, moisture easy evaporation, is also very troublesome. If the use of soilless cultivation of vegetables, the best use of plastic growing bags.
Fourth, plastic bags are not disposable, can be used for many years. For example, after the first crop of tomatoes was harvested and the seedlings were pulled out, the substrate was treated to reduce salt. If the substrate was less, it could be added. Then, the next crop could be planted, and it would not be affected. Planting bags placed in the greenhouse, generally will not be moved at will, low damage rate, can be reused. A planting bag about a dollar, it seems that the cost is relatively high, mainly in the early, to the late basically do not have to spend money.
Now the use of soilless cultivation of vegetables farmers growing more and more, and have made good profits. The utility model has the advantages of low cost, favorable growth of vegetables, and can be used repeatedly for many years. But also note that not all bags can be used as planting trough, try to choose white and black side of the plastic bag planting.