How to operate the stretch style ladder(or an extension ladder)?
(Two-step ladder, three-step ladder, double-sided ladder, two-dimensional change ladder, three-dimensional change ladder)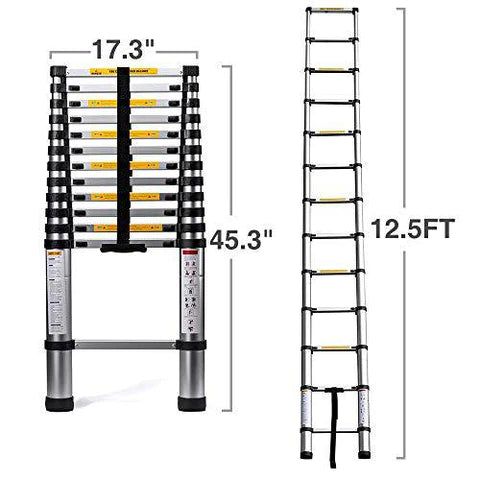 The angle between a single ladder or an extension ladder and the ground is about 75 degrees, and the length from the bottom of the ladder to the vertical support point is about a quarter of the working length.
After stretching the ladder, the minimum overlapping distance of the overlapping part shall meet the following standards. See the drawing on the inspection sign of the stretching ladder.
Operation method of lifting ladder
(single lift ladder, herringbone lift, lifting platform)
The angle between the single ladder or herringbone ladder and the ground is about 75 degrees.
After stretching the ladder, keep the overlapping part at a certain overlap distance. The overlapping distance of ladders below 8 meters should be above 75 cm, and that of ladders above 8 meters should be above 110 cm.
When lifting the ladder, you should hold the handle in one hand and the rope in the other, and the palm of your hand must not be placed on the steps of the ladder, otherwise you may get your fingers stuck when lifting the ladder.
Lift the ladder to a suitable height. After ensuring that the lifting clip is stuck on the step, break out the fixing block at the bottom of the upper ladder and fix it. Then tie the lifting rope, and open the ladder to a suitable width before use. Please gently lift and lower it when lifting.
To lower the ladder, fold the two sides of the ladder closer, then untie the fixed rope, raise the ladder a little, make the fixing clip leave the tread surface, and then slowly lower. If the descent is not smooth, hold the rope with one hand and gently shake the ladder back and forth with the other until the ladder descends smoothly.
The herringbone elevator and the lifting platform should be operated by at least two people. When lifting, two people pull the rope at the same time, and at the same time, the ladder over 6m should be assisted by at least two people, so as to prevent the danger that the center of gravity of the ladder will shift to one side due to uneven force on both sides.
It is forbidden to stand on the platform when the lifting platform lifts or moves.
There are two movable lifting fixtures on both sides of the lifting platform. When moving, fold them up. When lifting and working, please open them to an appropriate width and lock them for fixing.
The bottom of the lifting platform is equipped with lockable universal movable casters. Please lock the casters when working, and unlock them when moving to move freely.