The use of the family ladder is so varied
Many families have a small ladder, but most people probably only lock it in a small dark room when they don't use it. In fact, a little careful thinking, a small ladder can become a great decorative gadget, making the home more delicious. If there is infringement, please contact me.
Put the blanket and clothes on the ladder
The log colored ladder is well matched with the white furniture, which is placed beside the bed. You can hang the clothes you match the next day on it, and you can get up in the morning without worrying about the clothes of the day. It is also a simple way to put on clothes you wear outside on the ladder and change into household clothes after you go home.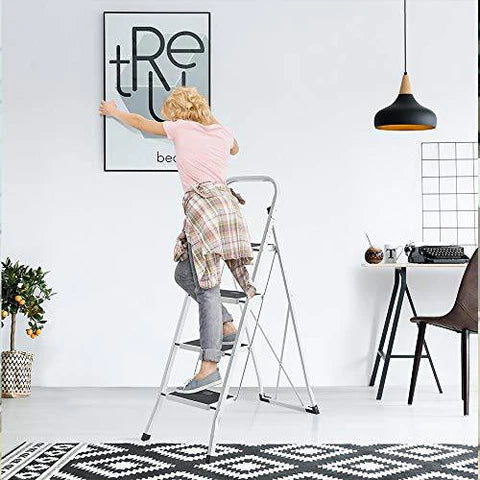 Can be used as bedside chair
The ladder can also become the most suitable bedside chair for placing bedside lamps. The small approach board on the ladder can put several books on it, which is convenient for you to read at any time during your rest.
It can be used as a plant flower rack
This method is applicable to both interior decoration and back garden decoration. The old little iron ladder is rusty, but full of fresh and natural taste, which is very suitable for matching with lovely plants. The ladder has its own sense of hierarchy, which allows you to make effective use of space. In addition to plants, you can also put some other small objects on it.
Can be used as a pot rack
This is a very classic idea. Hanging the pot can save parallel space on the desktop or in the cabinet, and can also be used as a wall decoration to kill two birds with one stone!
Can be a bookshelf
This is another classic example. Putting ladders on the wall at will can make a good small bookshelf. Look, there are still a lot of books in it, no worse than a formal bookcase.
Use the bathroom as a towel rack
It is also a very practical idea to put it in the bathroom as a towel rack. With the white walls, everything looks simple, fashionable, convenient and tidy. Replacing the traditional metal towel rack with a ladder can show an informal decoration style, and the idyllic and sweet breath of life can be seen in an instant.
It can also be used as a bar counter
This is a very interesting idea. If you put it outdoors and put a few long boards on it, you can make a big bar. Arrange the drinks one after another, and then you can invite friends to come and have a drink together!
Make wedding cloth background
A simple pastoral wedding can use a ladder as the background of the cloth platform. Is it very quiet and lovely to match it with a beautiful bouquet? Yearn for a comfortable and happy life, only together, no separation.
Can be used as a magazine rack
Placing the ladder in the study can make a magazine rack. The traditional newspaper and magazine rack is probably inspired by the ladder. Put your favorite magazine on the ladder to facilitate your friends to browse when they come home and chat with you about your favorite articles. 10. Ladies' little shoe racks put your favorite shoes on the ladder. Don't let them always stay in the dark closet. Use the space of the ladder to put more lovely shoes. If you are a shoelover, you will be very happy to see your babies every day.