Planting vegetables in growth bags, three questions that many farmers are worried about, will be answered after reading.
In the vegetable planting bag, many friends are more interested in this planting method, especially the problem of planting bags. In fact, this is a simple soilless cultivation, the use of bags instead of planting tanks, but also not any bags can be used, we use the planting bags black and white, as a cultivation container, the bottom has a permeable hole, will not accumulate water, is conducive to vegetable growth. Many friends are most concerned about the following issues:
What can the planting bag grow?
The depth of the planting bag is 20 cm, and the root system of the general vegetable will not exceed. We have used planting bags to grow tomatoes, cucumbers, strawberries, peppers, watermelons, pumpkins, etc., and these melons and fruits can be grown. Leafy lettuce, cabbage, oil wheat vegetables, etc., planting carrots, potatoes and other rhizome vegetables, may affect the expansion of stems.
Tomatoes and cucumbers are planted in bags, and each bag is planted with two seedlings, and melons, fruits and vegetables are generally planted with two seedlings, with a drip irrigation belt. Grow melons and fruits, and place about a thousand bags in an acre of land. When planting peppers, if the growth is strong, you can plant a seedling. Strawberries can be planted in a bag with four seedlings, and watered evenly with two drip irrigation belts.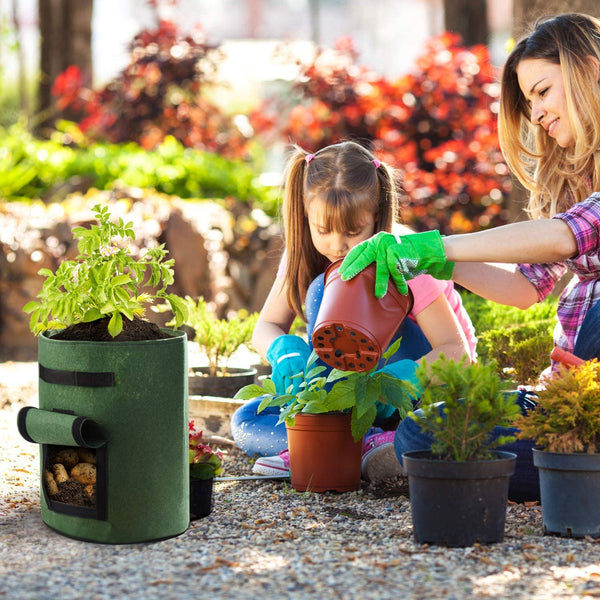 What is inside the planting bag?
When planting with soilless cultivation, the planting tank and cultivation substrate account for a large proportion of the input. After the planting tank is solved, there are many cultivation substrates that can be used. You can use cow dung, earthworm manure, seedling substrate, coconut bran, fermented bacteria sticks, bagasse, etc. in the planting bag, and see which one of the local resources is used, which can save a lot of money.
If you use planting bags to grow vegetables in the vegetable garden, it is actually equivalent to potted plants. In addition to the above types of substrates, some farmers will directly use garden soil for planting. In general, the water retention of the planting bag is better, and after watering, the soil is compacted and the air permeability is poor. It is best to use garden soil plus organic fertilizer, plus fertilizer according to the type of vegetable.
How long can the planting bag be used?
This planting bag is not disposable, and it is not that it is not needed after planting a stubble. In general, the planting bag is not damaged and can be used for 2 to 3 years. When planted in greenhouses, the bags are no longer moved after they are placed. If any of the trees are seriously diseased and will infect other plants, you can just remove this bag. When planting at home, although there are no plastic pots and ceramic pots, the planting bags are easy to move and have the effect of keeping warm.
Whether it is soilless cultivation in the greenhouse or a few vegetables planted in the family yard, you can use the planting bag. But pay attention to the use of bags to grow vegetables, just a different method, the management will save some labor, but not without management. The substrate is installed, and then the seedlings are planted, and the field management and pest control cannot be ignored.